Benefits and Levels of Membership
Welcome to the La Habra Chamber of Commerce
Our Membership Mission, to learn about your business and tell others about it. Ultimately membership is about increasing your sales and experiencing team support. We want to make sure you meet others that understand what it is like to own your own business. Your success will help us with our overall mission: Build a Strong Local Economy. Our community mission supports our local High School scholarships programs.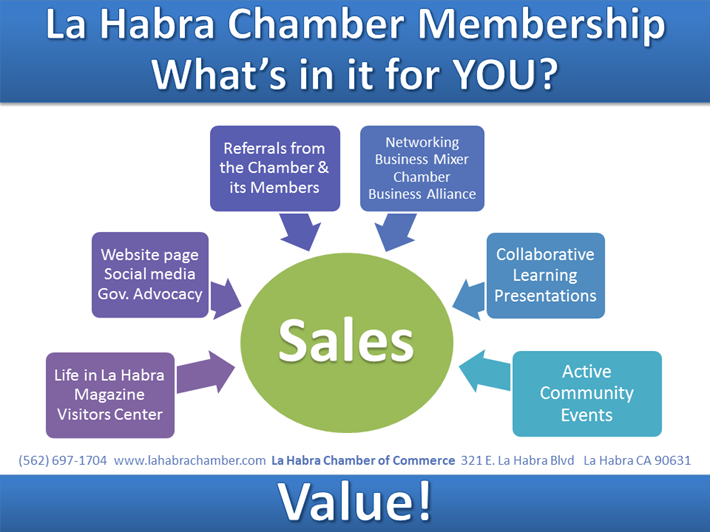 No obligation. We will contact you to discuss the best level for you.
Once you have reviewed the levels, call us so we can discuss what level is right for you. (562) 697-1704
You choose the level of membership that fits your business. Higher levels enjoy greater visibility. Just starting out or a Home based business? Take a look at our affordable levels. As you build your business you can level-up.
At any level you will be welcomed to our Chamber and know that you are a part of something amazing.
Chamber networking events bring together not only people who may just be starting their business and their networking journey, but also people who are very experienced and very wise in knowing how to build beneficial networking relationships. And even better, you'll often find that these people are willing to share their knowledge and act as a mentor for new members for networking and business.
We will contact you to discuss the best level for you.
This is the Ultimate level that includes VIP comp's to special events and special advocacy. We take care of your setup, changes, press release postings, event posting, job postings and more. You will be on banners and the Chamber website front page. This is the ultimate where we roll out our VIP services for you. All you have to do is focus on your continued success.
We will contact you to discuss the best level for you.